Scripts
Collected full and partial screenplays as well as supplementals like call sheets, and notes on script to film differences.

Sleepaway Camp Berserk (Opening Scene)
2007 by Michael A. Simpson & Fred Willard with storyboards by John Klyza (PDF format).
Sleepaway Camp IV: The Survivor Treatment
1992 (PDF format).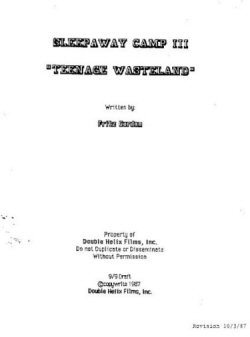 Sleepaway Camp 3: Teenage Wasteland Script
Shooting Draft written by Fritz Gordon (PDF format).
Sleepaway Camp Opening Scene
First 3 pages written by Robert Hiltzik (Scans).
Script Supplements
Script/location call sheets from various actors.
Sleepaway Camp: Berserk - Script Review
Read our thoughts on the new screenplay by Michael Simpson!
Script Notes
In the script to the first Sleepaway Camp, Ricky dies at the hands of camp owner Mel. Only during shooting did Robert Hiltzik decide to film Ricky showing signs of survival.
In the first draft of Sleepaway Camp 2: Unhappy Campers dated 7/6/87. Fritz Gordon's script described its characters somewhat different then how they ended up on film, or in some cases, more fleshed out:
Angela is described as this: "Angela's no-nonsense hairstyle along with her knee-length camping shorts and shapeless "Camp Rolling Hills" sweatshirt make her appear older then her 20 years." It should also be noted that in the script, after killing Phoebe, she "looks at the tongue a moment, grimaces slightly, then flings it behind her back."

T.C. is described as "the likable 29 year-old head counselor at Camp Rolling Hills."

Sean is a "handsome 16 year-old" - Rob and Judd are simply listed as his friends of the same age; most interestingly, Charlie was described and written as "an energetic 13 year-old Japanese boy"

When we are introduced to the girls, Ally and Molly are immediately set up as polar opposites attitude wise: Ally as "a worldly and very pretty blonde 16 year-old who is used to being the center of attention" and 16 year-old Molly as "a wholesome, somewhat shy brunette who is every bit as pretty as Ally but lacks Ally's confidence".

Mare is "Ally's 15 year-old tag-along friend"; Lea is "a 14 year-old plump girl just beginning puberty" (large difference between that and who played her); Demi "a pretty and independent 15 year-old black girl"

Brooke Shote and Jody Shote (yes that's the correct spelling); "two pimply sisters aged 14 and 16 respectively, who hate just about everything except Ozzy Osbourne." Glad they wiped off the pimples!

Uncle John is written as this: "In his 60's, he is known for his friendly nature and his mottled red nose". A quick tidbit: In the same scene as he is introduced, in the background there is a Greensman written as trimming the bushes with a gas powered chainsaw, which sets up where the chainsaw and Leatherface outfit comes from later.