Sleepaway Camp Reunion 3D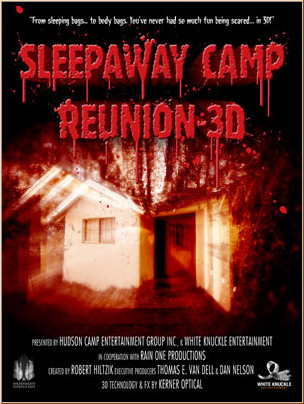 Details
What Is Sleepaway Camp Reunion?
A direct follow up to 2003's currently Return To Sleepaway Camp (SC5), thus closing out Robert Hiltzik's Sleepaway Camp storyline trilogy. He has had the beginning and end mapped out since 2000 when he completed Return To Sleepaway Camp's official first draft. Confirmed attached include: actor Drake Bell (Superhero Movie), composer Rodney Whittenberg, executive producers Tom Van Dell & Dan Nelson. Story details are slim at this point, however Van Dell has stated "Keep an eye out for Aunt Martha (and another relative or two) to make an appearance in Sleepaway Camp Reunion 3D".

Pitch
How do the producers describe the project?
This high-camp horror franchise has a huge cult following and numerous fan websites dedicated to it. This latest sequel, Sleepaway Camp Reunion 3D, promises to thrill its large fan base by raising the fright level with spine-tingling stereoscopic 3D effects. It is sure to create a frenzy of anticipation on the internet and lends itself to viral marketing strategies. Based on the success of the first film, and the success of our production partners Thomas van Dell and Hudson Canyon Group, with strong fan interest in the franchise, distribution for our new 3D sequel has already been obtained through Magnolia Productions.

Press Release
Jan 18, 2007 - Hudson Canyon Group
Hudson Canyon Entertainment Group Inc., jointly with White Knuckle Entertainment and Kerner Development will be announcing the co-production of the third installment of the highly successful Horror Cult classic Sleepawat Camp at the Sundance Film Festival in Park City Utah. The world famous film festival is being held January 17th through January 27th with film industry leaders and world famous talent from across the globe in attendance.
The film, entitled Sleepaway Camp Reunion will be filmed in both 3D and 2D. Kerner Mobile will distribute the feature film theatrically via Kerner Mobile. The film will also be made availible to over 1,200 3D theater screens throughout the United States and to all foreign 3D exhibitors. The 2D version will be distributed theatrically as well as on Video On Demand (VOD), Pay Per View (PPV) and DVD world wide.
Based on the concept and story by Robert Hiltzik, Sleepaway Camp is considered one of the premier independently owned horror series of all time. Emmy Winning Composer Rodney Whittenberg will be scoring the film and pre eminent visual effects company Kerner Optical, www.kerner.com (formerly Industrial Light and Magic, the infamous George Lucas FX company) will be providing all the FX and miniature services, in addition to 3D camera equipment / operation to the production. Past film credits included Pirates of the Carribean - Dead Man's Chest, Peter Pan, Warn of the Worlds, Star Wars, Harry Potter and the Chhamber of Secrets, Jurassic Park III amongst many others.
Sleepaway Camp Reunion goes into development February 2008 with an intended release date some time in the middle of 2009.

Fangoria Interview
Jul 20, 2006 - Michael Gingold
During Fango's visit to the shoot, Return producer Thomas van Dell revealed that he and original Sleepaway/Return writer/director Robert Hiltzik are already planning another chapter in the summer-slaughter series. "The next one is called Sleepaway Camp Reunion," van Dell tells Fango, "and it's the last one in our trilogy," which ignores the late '80s' Sleepaway Camp II and III. "It's basically about what happens when evil reunites, and that's all I'm saying about the storyline. The third one will by far surpass the first film as far as how sick it is.
"I don't know if Robert is going to direct, but he has already started on the writing," van Dell continues. "He has the bulk of the beginning and end done, and we're gonna piece the middle of it together. I don't think he'll have the time to direct; we're actually looking for another director now. But we're going to go back and retain the same people [Gerner and Spears] who are doing the effects on this one, and keep a nice small team again on it. That's really the most important and crucial part of something like this, where you can either gain the picture or lose it, so we're going to stick with people we know and trust and who have delivered for us so quickly, and just keep going that way. Their work looks fantastic."

Links
Company sites, cast/crew, etc.
Hudson Canyon
White Knuckle Entertainment
Drake Bell
Rodney Whittenberg
Kerner