Interview With Loris Sallahian (2004)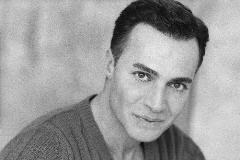 Loris played the macho Billy in Sleepaway Camp and spent most of his scenes hanging around with fellow bullies and skinnydipping - but it's the death by bee sting (and in the shitter no less) that has cemented him in the fans' minds forever. So keeping that in mind I passed it on to the fans themselves to take advantage of this opportunity and come up with the questions. Questions were submitted by: sweetdreams, Lypurgus1985, Uncle John, sc83x, chaos. You're a sport, Loris!


Sleepaway Camp Films: The stock standard - How did you get involved with Sleepaway Camp?
Loris Sallahian: I was already a teen actor in New York City, doing alot of theatre, Broadway and other stages, and started appearing in different films such as Fame for MGM and We're Fighting Back with Ellen Barkin for television. I had agency representation and was in my first year of New York University when my agent sent me to meet Robert Hiltzik. He pretty much hired me immediately after my first audition.
SCF: How much were you paid on the film? Did you get it upfront or after?

Sallahian: We actually received deferred payment, which is often done when the film is low budget. You receive your agreed upon salary after the film is secured with a distributer.
SCF: Which scene was your favourite to shoot? We all have our suspicions.
Bzzzz...

Sallahian: Actually, it was the Water balloon scene. We were hoisted onto that roof with ladders and were told not to move or else we might be filming an aerial scene. Then we had to try to figure out how to make it look like we were actually having a water balloon fight with no effort whatsoever... We really enjoyed it. Especially Tom Van Dell and I.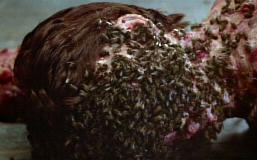 SCF: How do you even face something like being in your own death scene?
Sallahian: To be honest, I didnt think about that part of it and since all the 'special effects' were done with a mannequin, I didnt even see it until the opening day. It really upset my Mom and Grandmother though.
SCF: What was the low point of the shoot? Or anything just tick you off?
Sallahian: Well, we were supposed to commence principal photography earlier on in the fall, but delays caused it to begin in October, so by the time we filmed all those scantily wardrobed scenes, it was freezing. That really effected everyone's moods. Then, there was some trouble during the Skinny dipping scene...
SCF: Willy Kuskin claims to have been heavily bullied on set. He named names, but we won't. Any knowledge of this? Haha.
Sallahian: To be honest, I really do not have any recollection of that. I think he might be mistaking me for one of the other boys. I truly was a teen age pro at the time and took the whole project very seriously. Far too seriously, actually.
SCF: Did anything embarrassing or amusing occur on set?
Sallahian: As I mentioned, the skinny dipping scene was a low point, but I must admit that my most embarrassing point was the softball scene. I never liked that sport and had no desire whatsoever to do it, so you can imagine how long it took me to actually hit that ball... as everyone watched. I felt like such a wimp!
SCF: How did you and the rest of the cast feel about participating in that legendary skinny dipping scene? And, were those asses really yours, or stand-in's?
Sallahian: Well, the only person from the principal cast to appear in that scene naked was me. The other boys were local guys that were used thru out the film as extras. The story has been told before, but here it is again; It was near the end of the shoot and it was my last day of filming. It was freezing and foggy and we got to filming it in the wee hours of the morning. Now, previous to filming this scene, my agent specified in my contract that it would be a closed set due to nudity. This is pretty much standard when filming nude scenes but nobody seemed to tell the locals about it. When we arrived, there were locals actually there to watch from the banks of the lake, picnic baskets, six packs, and all. After we did one take, they started carrying on in a rather questionable manner and, after getting no support from the production crew, I walked off the set and refused to finish filming the scene until Hiltzik had a meeting with me. Everyone got pretty pissed off that I had done that but, as young as I was, I was well aware of when my rights as a professional were violated. After he and I had a long discussion, I agreed to finish my scenes. One thing that nobody is aware of is that, in the scene when the boys and I are jeering at the girls for running off after we come out of the lake, I groped myself at them with my white briefs on. I had originally agreed to do that scene nude and only agreed to finish filming if it was changed, due to the previous violation of my contract. That's something I totally forgot about until just now!
SCF: How do you feel about that scene that being cut out of the DVD version?
Sallahian: Absolutely great!
SCF: On the set was there any talk about Robert making a sequel, at the time?
Sallahian: Not to my recollection, but I do remember Tom Van Dell pointing out that, since he was the only camper left standing, he was prime for a possible sequel... Who knew he'd be producing one 20 years later...
SCF: What have you been doing since working on that little film called Sleepaway Camp?
Sallahian: Boy, That's a load of stuff to write, but, since this will be the last interview I will want to do regarding this film, I'll put it down for the record; I continued to act on Broadway but changed directions to music and became a singer/songwriter on Blue Note/Capitol records in my twenties. While I was between contracts at that time, I got involved with Gianni Versace and started working in fashion. That led me to a long standing 'love affair' with the high fashion industry and have since worked for Fashion houses such as Claude Montana and Chanel. I currently design for three companies, two of them under my own label.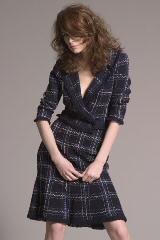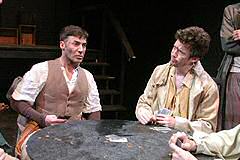 One great thing that came out of the Sleepaway Camp revival is that I was able to lose my phobia of making an acting comeback and have since appeared in a New York Musical called Buddy Cianci: The Musical, The New York revival of Gorky's The Lower Depths and recently finished the role of an accused Arab terrorist in post 9/11 New York in Chad Heird's upcoming film release, Pandora. I certainly don't want to make acting my whole life any longer, but it will always be one of my great loves and it feels wonderful to touch base with that part of my creativity again.
SCF: You were supposed to be involved in Return to Sleepaway Camp. What happened?
Sallahian: Well, I'm not quite sure... I agreed to design costumes on the film and help Robert put together the whole look of the film. My associate and I worked on it that whole summer with the production team but the project went on hold that September before 9/11. Production resumed again in the summer of 2003 but we had to make a special arrangement if I was to resume designing for the film because I was debuting my first couture collection that same fall. I thought we had come to an agreement regarding my work schedule and support staffing, but I was abruptly replaced 3 weeks before principle photography was to begin. No one seemed to know who's decision that was but it definitely left a very bad taste in my mouth. Especially since I had initially put so much effort into it with very little reimbursement for my effort. I had done it as a show of faith in the project.
I do wish them well but I also wish they had provided me and my associate with the professional respect we had granted them.
SCF: What is your review and critique of the fashions in the film (short shorts, etc.) today?
Sallahian: Well, that's what we all wore back then....Tacky as it was! Short shorts and hi tube socks... It was the 80's...
SCF: Have you seen the rest of the franchise? What do you think of the whole legacy?
Sallahian: A couple of years ago, I dated a Sleepaway fan (totally by accident!) and I was made to watch all the films one snowy afternoon... I was amazed! They were very different from what we had done but I loved Pamela Springsteen... She was truly twisted in the series...The whole Sleepaway Camp movies history just confirms one thing for me; You just can't make stuff like this up! Thanks for all your interest, guys!!