Interview With John Altyn (2007)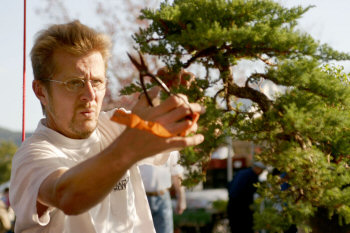 For the longest time, John Altyn has been one of the most unseen players in the Sleepaway sequels. He turned out Outta Control in Sleepaway Camp 2: Unhappy Campers, which played during the Ally/Rob bathroom tryst, and the essential anthem to the series, Sleep Away which backed the closing credits of Sleepaway Camp 3: Teenage Wasteland. John has also been a question mark for some general horror/metal fans wondering who the man was, and what became of him. Now, answers below, from John Altyn himself.

Firstly, what are your musical influences?
Altyn: Motown, Beatles, Cheap Trick, Black Sabbath, King Crimson, Frank Zappa, Johnny Winter, and probably a whole bunch more...
What was your background leading up to your songs for the Sleepaways?
Altyn: I studied animation art and fine art drawing in college at Pratt Institute in Brooklyn NY. I had been playing guitar since the age of 5 and during my high school years sat in my room for endless hours teaching myself to play the guitar. In college, I got together with 9 black guys (African Americans - PC), and we would jam for hours at college school beer bashes. They called me the "White B.B. King." I guess all of those Johnny Winter and Cream records stayed with me. I then started a punk band VD playing the NY circuit; CBGB's, Max's Kansas City, etc. I was then asked to audition for an upcoming and established band called Mrozinski. The guitar player left and they were looking for a replacement. The guitarist I was to replace was the ex-guitar player for John Lennon's band Elephants Memory. I passed the audition. Within months we were in the studio and recorded our first #1 hit in Europe, Give it up Kid. It was very exciting. We were going to be produced the fellow who produced the first Cars album and record at Todd Rundgren's studio. Without telling us, our manger tried to extort more money for himself out of the record company, and threatened to take the band with him if his demands were not met. Well, the Record Company tore up the contract and that great band was over. I then started my own band named Big Deal - I received much interest from CBS and Warner Bros. records but my lawyer at the time again played politics behind my back and deals fell through. I always wanted to get into soundtracks from my days in college doing animation.
How did you come to get your songs accepted for the movies?
Altyn: My wife at the time, was my manager and knew the people at Double Helix Films.
What's the story behind your song on Sleepaway Camp 2, Outta Control?
Altyn: The song was written a little about myself and life in NYC and a family member just now getting out of prison. When it came time to record, my other guitar player never showed up. He was out shooting heroin. Classic Rocker. So I did all of the guitar tracks, and keyboards.
Your track - Sleep Away - in part 3 sounds like a specifically-recorded tie-in to the movies, how did that come about?

Altyn: They loved my song Outta Control and offered me the opportunity to write the "sweet song" (the song at the end of the movie). I was very flattered. Originally, I had written the song for the beginning of the movie. It had sound effects of crickets, owls and frogs with my voice effected to make it sound vary deep and dark. Regarding the recording process, I went into the studio with my engineer Bob Stander and me. I played all of the guitars, keyboards. Bob Stander played bass and cymbals. The drum track were Lynn drums which Bob programmed. I then had Bob sit in and play the high hat, and symbols for a better sound. Everything was done in one take, except the high-hat and cymbals that Bob recorded after the drums were laid down. Because the script was so bad, in the middle of the song, during the bridge, you will hear little twisted voices. I am saying "same ol' story," poking fun at the crappy script. I don't believe they ever picked up on my dig at the script.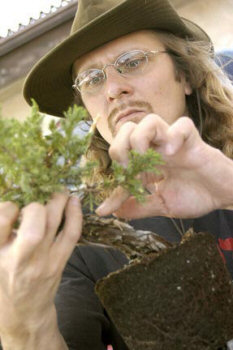 Can you elaborate on equipment, instruments, and people you worked with to make those 2 songs?
Altyn: On Outta Control I used a one-of-a kind guitar designed and made for Cars guitarist Elliot Easton, but he didn't want it so I bought. I still have it. I used a Rock Man box. The drummer Johnny "O" Bellon played Slingerland drums, Fred Schreck Sang backup voice along with John Baker and I played all of the other instruments. On Sleep Away I used my 1959 Les Paul Junior, (the one with the single black pickup) and my 1969 Fender 50 watt Baseman Head, which I still have. It kicks ass! All Keyboards were Yamaha.
Did you submit or plan any other songs that didn't get used?
Altyn: No. But I did other sound tracks for other movies. A song called Street Beat for a movie entitled Riot on 42nd St., and full orchestrated piece for a movie entitled, The New Jersey Werewolf. And a blues cabaret song called, I Can't Cut You Loose. I don't remember the name of the movie.
I've been told in the past there was a Japanese Sleepaway soundtrack featuring your music but it's never been verified, do you know anything about that?
Altyn: I know nothing about that.
Do you have any musical appearances on albums since the 80's or other songs of the same style from the era that interested fans can dig up?
Altyn: I played on the Buva CD. Tom Wolfe is the artist. The title of the song and album is entitled, Daydream. I wrote a song called, The Peaceable Realm, for a painting that was over 360 long and traveled to 60 countries around the world, and wrote a song for a made for TV docudrama called, Riot. The song is called, L.A. Burning. I wrote the song in 1984 and was surprised and had a good chuckle to myself when recently Bad Religion came out with a song entitled, Los Angeles is Burning.
What have you been up to since the 80's?
Altyn: I also wrote a song for A Nightmare On Elm St 4. My wife Dawn Altyn used to work with Bob Shaye at New Line Cinema when they were located in New York City. they were located on 8th Ave in Manhattan. David Chaskin and his late wife Janice used to work there also. David wrote the screenplay for Nightmare 2. The script was much better than the movie. He also wrote a great movie entitled, I' Madman. I believe it has been renamed but don't know the current title. My song for #4 although I was told it was going to be the title song, the band/artist Dokken got the OK from New Line. Then, in the late 1980's they produced a TV series entitled, Freddy's Nightmares. The song was to be the TV song. But as the entertainment business goes, it was not used. The title of the song is, Nightmares. It a really cool song, and very haunting. I produced it along with guitarist/producer Frank Carillo and engineered by the great engineer Bob Stander. Bob also engineered Sleep Away, Outta Control, Moshun, and almost all of my other music. Frank Carillo used to play with Peter Frampton, and worked with Eric Clapton, George Harrison, Ian Hunter (Mott the Hopple) amongst others. Ian included Frank's name in his song about New York City. Of course I don't remember the title of the song at this moment.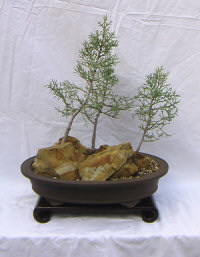 In 1990, I started an animation magazine entitled, In-Toon! about animation. I created a company called Ross Editions, inc. creating limited editions using all of the Warner Bros characters. We did very well. I also worked with Universal studios, Kellogg's Corp., Graceland, and others, and even have a piece of my artwork hanging at the Bill Clinton Library. I've also worked as an animation art curator at Butterfield & Butterfield, Christies and Southey's. I'm now a consultant and ghost artist for Great American Ink in L.A. and have my own bonsai company; Old Wood Bonsai.
I've recorded and toured with the band the Billy Goats - a fine rock-a-billy band and produced by legendary Brian Ahern. "...It's been a good life but it's been strange..." (Ian Hunter - Mott the Hoople). Thank you for inquiring about my music. I had a great time doing it and still write and play guitar...
No, thank you John Altyn. It's great to mark off another SC alumnus that has reaped success in diverse arenas, and we certainly hope to hear more of your music one day.