Article: Sleepaway Camp 2 & 3
Cinefantastique Magazine Vol 20 No. 3, January 1990
By Gregory Nicoll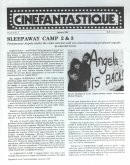 Transsexual Angela stalks the video market with two simultaneously produced sequels.
Angela is back - and Nelson Entertainment has got her! The third installment in the grisly Sleepaway Camp horror film series - this one entitled Sleepaway Camp 3: Teenage Wasteland - is scheduled for video release in mid-November after a brief, limited theatrical run in certain major markets. The Double Helix Films production was shot in the Atlanta area during October of 1987, lensed back-toback with the series' second entry, Sleepaway Camp 2: Unhappy Campers. Both sequels used the same crew and locations, and both feature actress Pamela Springsteen (sister of rock star Bruce Springsteen) in the role of transsexual murderess Angela Baker.
The original Sleepaway Camp, a 1983 release from American Eagle Film Corporation, (written and directed by Robert Hiltzik) opened with a tragic boating accident involving the family of young Angela (Collette Lee Corcoran), then flashed forward eight years to a summer camp where an older Angela (now played by Felissa Rose) and her cousin Rick are spending their vacation. After the shy Angela was harassed by other campers and the staff, a series of murders begins - the work of an unseen killer. Suspicion falls on Rick (who appears to be overzealously "protecting" Angela) but the movie's shocking final scene revealed Angela as the killer - and, furthermore, that "Angela" was a boy. The real Angela died in the boating accident and for the past eight years, Peter, her surviving brother, impersonated her.
Despite numerous flaws, Sleepaway Camp earned what one source at Double Helix described as "about six times" its cost and was New York's top-grossing title the weekend it opened. It has since become a video shop standard.
The pair of sequels came about when Jerry Silva, a coproducer of the original film, utilized Double Helix to put the long-planned project together. The remote Georgia shooting locations minimized production costs, keeping the sequels within their approximately $1 million budget. Atlanta filmmaker Michael Simpson (Impure Thoughts, Funland, Fast Food) assumed directing chores during the Fall of 1987, with Stan Wakefield serving as Executive Producer. Responsibility for the film's many and varied gore effects fell on Georgia's makeup effects specialist Bill "Splat" Johnson, a graduate of the legendary professional training course conducted by makeup veteran Dick Smith (The Exorcist, Altered States).
In Sleepaway Camp 2 Angela Baker has had a sex change and returns to camp as a female counselor. Enraged by the open debauchery there, she goes on another murder spree and butchers virtually every other character in the film. Sleepaway Camp 3 takes an interesting new turn. As it opens, Angela slaughters a girl who was on her way to camp. Angela then assumes the dead girl's identity and attends camp once again - as a camper. The summer camp depicted in the third film is an experimental retreat for troubled kids, where the children of rich and poor families interact and learn more about each other and the world.
Despite the frantic pace of its production, Sleepaway Camp 3: Teenage Wasteland contains some extremely impressive splatter effects. These were singled out for special praise in a surprisingly favorable review of the film which appeared in Variety last summer. "What I prefer about Sleepaway 3," said Johnson, "is that the methods used in the murders are much more clever." Featured gore sequences in the new film include a girl being dropped head first from atop a tall flagpole and a woman buried up to her neck being run over with a lawnmower.
"Response to Sleepaway Camp 2 was so good - and video pre-sales on Sleepaway Camp 3 have been so strong," observed director Simpson, "that we're already discussing a Sleepaway Camp 4. We're up for it. If we can assemble the same crew, we'll probably be doing it."