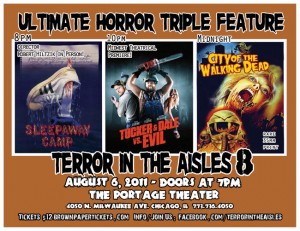 It's rare "the man" gives interviews about Sleepaway Camp, but Robert Hiltzik will be appearing at a theatrical screening along with producer Michele Tatosian (click the flyer for details) and was interviewed by Fangoria to promo the event. Not only does Hiltzik give some amazing insight into Angela, but offers his candid thoughts on Return to Sleepaway Camp and confirms he's outlining a new Sleepaway Camp (though he does not say if it's a sequel or remake, last I heard it was undecided which to proceed with, but that was quite long ago).
FANGORIA: SLEEPAWAY CAMP has influenced many over the years and has been listed on multiple best-of-'80s lists. What has been the most amazing thing about SLEEPAWAY CAMP for you?
ROBERT HILTZIK: The tremendous following! It still amazes me. I still don't know quite what to make of it. The film came out over 25 years ago, yet I went to a convention just three years ago and for two days it was constant lines of people wanting autographs and things signed. It's my baby, but I didn't expect it to be this embedded in the culture.