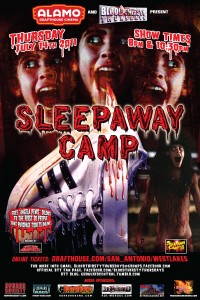 On Thursday July 14th, Sleepaway Camp Films co-sponsors Blood Thirsty Thursdays' theatrical screening of Robert Hiltzik's Sleepaway Camp at Alamo Drafthouse Westlakes, San Antonio, Texas!
This is our first sponsorship of this kind, and I'm excited enough to break out the exclamation points. Show organizer Kelly Hammond shares my twisted sense of humor and really "gets" Sleepaway Camp (none of this "spoiler" worrying, the ending is clearly the best gateway to new fans!).
Two showtimes are schedules (8pm & 10.30pm) and the first 20 people to purchase tickets online (once they go on sale) will get a free "Angela Penis" dildo. Twisted, yes?
Check out the ad below (this is the "safe" version, with the most strategic placing of our website logo I've ever seen!) and hit up BTT on Facebook to stay up to date.
Blood Thirsty Thursdays put on a stellar show, evident in their screening of My Bloody Valentine that our sister site Retro Slashers sponsored in February. Sleepaway Camp in Texas should be a hoot!

http://www.youtube.com/watch?v=ovnZjrbvBtg