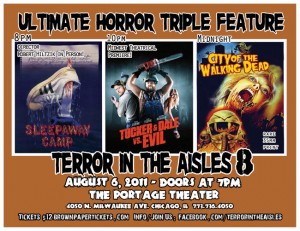 It's rare "the man" gives interviews about Sleepaway Camp, but Robert Hiltzik will be appearing at a theatrical screening along with producer Michele Tatosian (click the flyer for details) and was interviewed by Fangoria to promo the event. Not only does Hiltzik give some amazing insight into Angela, but offers his candid thoughts on Return to Sleepaway Camp and confirms he's outlining a new Sleepaway Camp (though he does not say if it's a sequel or remake, last I heard it was undecided which to proceed with, but that was quite long ago).
FANGORIA: SLEEPAWAY CAMP has influenced many over the years and has been listed on multiple best-of-'80s lists. What has been the most amazing thing about SLEEPAWAY CAMP for you?
ROBERT HILTZIK: The tremendous following! It still amazes me. I still don't know quite what to make of it. The film came out over 25 years ago, yet I went to a convention just three years ago and for two days it was constant lines of people wanting autographs and things signed. It's my baby, but I didn't expect it to be this embedded in the culture.
FANG: What was your initial impetus to create it?
HILTZIK: I was a student in the graduate film program at New York University, and I was thinking about career moves. I loved making films and I didn't want to work my way up from a gofer or office position. I wanted to get up to directing as soon as possible. So I thought a horror film would be marketable, but I wanted to do something different. I wanted to create murders that hadn't been seen before and play with the characters and psychological motivation. So, for my last year of school, I disappeared. I paid my tuition, but I was making SLEEPAWAY CAMP. It wasn't a student film; it was a professional SAG film, so my professors, ultimately, didn't know whether to give me my degree or not. I found out later that my fellow students lobbied for me to get it.
FANG: Great story. You had a lot invested, personally, in the project then.
HILTZIK: I attended the camp where we filmed, so that gave me a very personal connection to the project. I also didn't want to use 20, 21-year-old actors to play the teenagers. I liked the idea of using 12-year-olds to play 12-year-olds. Camp is your first taste of freedom as a kid. You're in charge of your actions and your environment. The counselors are only a few years older than you are, and it is a LORD OF THE FLIES-type situation. You form your own societies, and like in everyday society, you have the haves and the have-nots. I thought this would be a great basis to start a horror film from. I like texture. I like characters and story, and that is what I set out to accomplish.
FANG: Your cast, including Felissa Rose as Angela, also contributed mightily to your vision, correct?
HILTZIK: Felissa is terrific, totally enthusiastic. She connects with the part and truly has developed it. She is Angela. But I love the casting process as a whole. It's one of my favorite parts of making a movie. Here's a story I haven't shared before. Judy was going to be a blonde in contrast with Felissa. Jane Krakowski, who is on 30 ROCK now, gave a great audition and was going to play her. But Karen Fields came in, and there was just a certain quality to her bitchiness. She had a different tone, so we went with her. I don't think Jane has suffered, though. I'm proud of her. She's had a brilliant career.
FANG: How did everyone relate on set?
HILTZIK: It was a wonderful experience because the cast and crew got along so well. Crews can almost be like carnies at a carnival. But here, the crew enjoyed the innocent vitality of the kids. They really took good care of them.
FANG: What about the performers' parents?
HILTZIK: There actually weren't a lot of parents on set or taking charge of the kids. I actually had to stop some adolescent romances because they threatened the project. Adult romances on set can be hard, but you have the emotional tools to know how to handle them. To the kids, it's their whole world, and they don't know how to react properly. But we got through it!
FANG: The queer community has also embraced the film over the years because of its transgendered heroine.
HILTZIK: Well, there is no question—it's a gender issue. There are definitely gender conflicts going on with Angela. Starting at an early age, she was exposed to multiple sexualities—her father was gay. Then she was thrust into a gender transformation—whether she wanted it or not.
FANG: Were you afraid about any uproar because she was the villain and not a sweetly misunderstood victim?
HILTZIK: Well, her actions were conflicted, but she had justification. If you really think about it, she is a champion for the abused. As a writer, ultimately, I was just trying to give possible reasons for her actions. But I don't want to give finite definitions. A film is like a painting; there can be several interpretations. It's up to the viewer to decide.
FANG: Were you at all nervous about the controversial nature of the revelation?
HILTZIK: Well, I was worried I was going to get an X rating. When the ratings board called, they said they had some bad news—they were going to have to give me an R. I said, "OK!" I wanted an R rating. If I had gotten an X, I would have had to contemplate changing the ending, which was something I didn't want to do. 12- and 13-year-olds can sneak into an R film. But an X? Not happening.
FANG: Well, it was ultimately successful enough to spawn two sequels.
HILTZIK: I was not involved in the second or third films in any way. They were filmed in one shot for video release. I actually hadn't even contemplated a sequel. I had a few projects in development with the studios. I was moving onward and upward, as it were.
FANG: What happened with those films?
HILTZIK: Well, I had a project at Fox. A new regime came in, and all previous projects were dropped. I also had a high-action thriller in development with Dino De Laurentiis. It hit 38 different desks and got 38 approvals. Everyone was enthusiastic about it and wanted to do it. Then it hit his desk, and he didn't want to do it because he thought it gave sanction to terrorism. So it's a frustrating business—definitely not for the faint of heart.
FANG: And what happened between those projects and RETURN TO SLEEPAWAY CAMP?
HILTZIK: Well, I had children and wound up going to law school. I actually got in the day just before classes began, so it was literally a last-minute thing.
FANG: And what is your take on RETURN TO SLEEPAWAY CAMP now?
HILTZIK: Oh, that was a disaster. I had that thing wired with great effects. So that's what disappoints me the most about the project. The effects on it are just so low-grade and juvenile. The effects I had planned would have gotten it into theaters. It was a tough shoot, as well. We had a great location, a beautiful camp. But the weather just created awful conditions. If it weren't for the efforts of producer Michele Tatosian, that film actually would have never been completed at all. She's just a brilliant producer. But because of that experience, I learned. I will never direct another film unless all of the money is guaranteed.
FANG: So the experience hasn't deterred you from making films?
HILTZIK: No, I am working on a new treatment for a SLEEPAWAY CAMP film right now.
FANG: Wonderful. And now you and Michele are heading to Chicago for Terror in the Aisles!
HILTZIK: You know, I honestly look at all my personal appearances with a certain sense of apprehension. I still just marvel at the enthusiasm for the film. So I truthfully never know what to expect. Don't get me wrong; it's all wonderful, and I truly appreciate talking to the fans. At one symposium, I even had an incredible talk with a 12-year-old fan, but I just never know. I am never totally secure with it.
Source: Fangoria