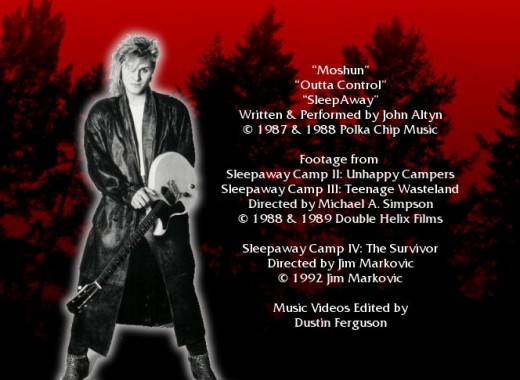 One of the biggest assets to the 20 year completion of Sleepaway Camp 4 was musician John Altyn. As campers know, John was responsible for two songs in the previous two sequels – Outta Control in Sleepaway Camp 2, and SleepAway in Sleepaway Camp 3, the latter becoming virtually that film's anthem.
Provisional SC4 plans in the early 90's were to bring back everyone from the soundtrack side of things, so when I was drafted as a producer of the completed version of SC4 a few years ago, I wanted to approximate as much as the original plans for the project as possible, and a major target for me within that was to involve John Altyn.
As luck would have it, I had gotten in touch with John a year earlier in 2007 for a website interview, and we became fast friends due to our similar madcap world views, and both being Polish (so basically, both reasons were the same reason). In addition to supplying me high quality digital copies of both Outta Control and Sleep Away I've been pumping through my speakers with maximum bass ever since, John let me listen to a secret song called Moshun.
John recorded Moshun in the same late 80's period he did the Sleepaway Camp music for. This song was actually intended for the movie Spaceballs, I believe, but that did not come to fruition. What wasn't perfect for Mel Brooks was perfect for us. Moshun was a genuine holdover from the 80's in sound, style and scope, with a catchy electric keyboard tune that recalls the Italian performers from early Dario Argento hits, Goblin. While we could not afford to produce brand new music and would have otherwise relied completely on our archival scores from the series, we were able to use John's Moshun, the never-released third brother to Outta Control and Sleep Away – very fitting for the third sequel in the Double Helix lineage.
Moshun was lengthy, so instead simply sampling it, my idea was to cut it up and use it a few different points in SC4 to get the most use out of the powerhouse song.  First up in the opening credits, as we had heard John Altyn music within the movies and end credits before, but not a beginning. More ended up in the climactic forest chase between the Ranger and Allison, and finally what was the foreboding beginning of the song ended up in the end credits of SC4, fading in after the full version of Outta Control. The credits were then capped off by the unheard Satanic-sounding beginning of Sleep Away.
My editing directions were carried out expertly by final editor, Dustin Ferguson who also cut together the three John Altyn SC music videos seen in the DVD extras, and has since forged a working relationship with John who has produced brand new songs like Holy Roller and Over The Edge (with Chinese Chicken) which has been featured in movies like Dustin and RHR Home Video's Slumber Party Slasherthon and Black Tree Forest sequels, the first movie of which I was lucky enough to carry producing credit on. Back in the day, Bob Stander was there with John as music engineer, co-producer and musician, playing on Outta Control and Sleep Away, so once again John linked up with Bob to start to record again, this time also with Shawn Murray. Both Bob and Shawn are Grammy Award winners.
Dustin, in turn, has shot music videos for John's new music. The new tracks amazing, and I could swear they're refugees from the 80's like Moshun, but no – John is really back in the studio, jamming away.
The process of completing Sleepaway Camp 4 was one of situational compromise, but one of the many victories was being able to work with the great John Altyn and integrate his vintage music into our vintage movie.