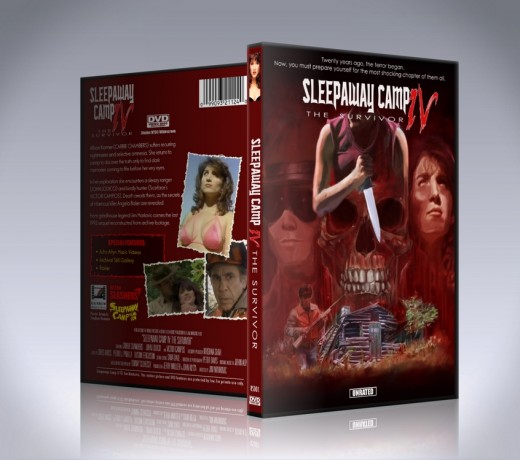 20 Years after the abandoned shoot, Sleepaway Camp IV: The Survivor is finally assembled and released. This was truly a labor of love and we hope you enjoy it.
Story:
Allison Kramer (CARRIE CHAMBERS) suffers recurring nightmares and selective amnesia. She returns to camp to discover the truth only to find dark memories coming to life before her very eyes. In her exploration she encounters a sleazy ranger (JOHN LODICO) and kindly hunter (Scarface's VICTOR CAMPOS). Death awaits them, as the secrets of infamous killer Angela Baker are revealed.
About:
Sleepaway Camp IV: The Survivor is a sequel in the long running cult classic franchise. A test shoot directed by legendary grindhouse editor Jim Markovic was conducted in 1992 which never graduated to full filming. However, over the past 20 years the footage was rescued and painstaking work began on reconstructing the project using archive scenes from previous films as well as newly recorded narration and visual effects to create a "clip" movie that would approximate the original intent to as final a degree as possible. The result of years of work is now available as a 70min feature approved by the director.
The First 4 Minutes:

http://www.youtube.com/watch?v=ChAf3fVPLGo
Press:
Famous Monsters of Filmland

Fangoria

"Like" us on the Sleepaway Camp Films Facebook for the latest news.