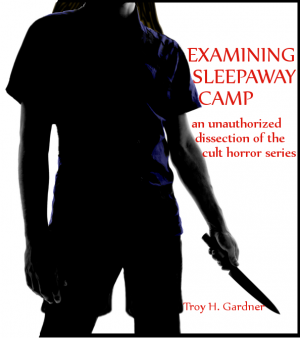 Troy Gardner has written a book of Sleepaway Camp essays called Examining Sleepaway Camp. I read a draft earlier in the year which I enjoyed. It covers all five movies and raises so many interesting points that you're sure to view the SC series differently afterwards. There's always more to learn, think and discuss!
Examining Sleepaway Camp
An Unauthorized Dissection of the Cult Horror Series
Written and self-published by Troy H. Gardner
Available in paperback
and Kindle
In this unauthorized book, author Troy H. Gardner casts an analytical eye on the Sleepaway Camp series, a horror franchise that has amassed a cult following.
Gardner calls upon a variety of film theory techniques to examine the iconic Angela Baker. Essays include close readings of the films, the Final Girl trope, the roles of water and the camp setting, character studies of Ricky and Judy, the horredy trend, and many more.
This fun collection is perfect for any Sleepaway Camp fan, film theorist, or horror lover.