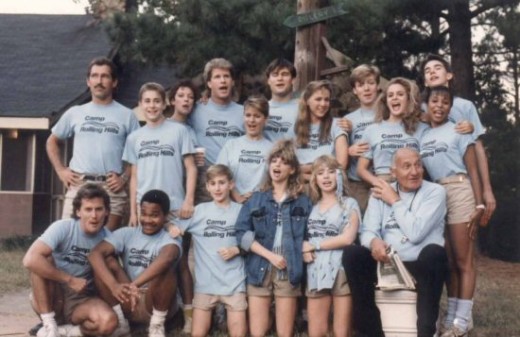 Dear Camper,
My name is Uncle John and I am the owner and boss of Camp Rolling Hills. It is sure an honor to have you here with us for these following 6 weeks of camp. Our camp has been in existence for several years now and it is said that all the best kids in New York come here. We try our best to make a camper's experience at Camp Rolling Hills the best it could possibly be. A typical camp day consists of 7:30 breakfast, camp announcements, camp song(s), outdoor adventure, swimming, lunch, free time with friends, evening excursion, dinner, cabin time, and then lights out at 10:30. The rules for making our camp as great as it is, go as follows:
1) No boys will be allowed in girl cabins and vice versa
2) Nobody will be discriminated because of their race, religion, sexual preferences, physical characteristics, etc.
3) Campers are to obey their cabin leaders and not back talk.
4) Campers must attend ALL required events unless told otherwise.
5) Campers are to remain fully clothed at ALL times (including bedtime)
6) In free time, campers are to remain in the boundary zone only.
7) Profanity will not be tolerated.
8) Fornication is prohibited
9) If anyone chooses to disobey any of the following rules, they will be sent home immediately.
We intend to provide you with a safe, and entertaining summer experience. We don't expect there to be any problems, but if for some reason, throughout your 6 weeks, there happens to be a problem, please feel free to discuss it with either myself or the head counselor, T.C. Enclosed in the envelope is the Camp Rolling Hills Camper's Manual. Read that for information on what to do with the other things in your envelope. Again, it is a great pleasure to have you with us this summer and we hope you will choose Camp Rolling Hills again sometime in the future.
Sincerely,
Uncle John
_________________________________________
CAMP ROLLING HILLS CAMPER'S MANUAL
THE HAPPY CAMPER SONG
_________________________________________
The Happy Camper song is Camp Rolling Hills' OFFICIAL camp song. Enclosed in your happy camper's envelope is your very own copy of "The Happy Camper Song." We encourage you to learn the song as best as possible because you could be called up at anytime to sing it in front of the whole camp. The HCS will be sung after all meals.
NAMETAG
_________________________________________
Your very own nametag with YOUR very own name has been enclosed in the Happy Camper envelope. It is necessary that you wear your nametag all day for the first week at camp. This will help you meet others and other people will remember your name.
CABIN CARD
_________________________________________
Your cabin card includes the number of your camp cabin, the name of your cabin leader, and the names of other members of your cabin. (Girls will be with girls and boys with boys). It is necessary to carry your cabin card with you for the first couple days of camp so you will remember where your cabin is and who is in your cabin.
STICK OF GREEN GUM
_________________________________________
The enclosed stick of green gum is given primarily for your enjoyment. We include this as a way for you to chew on something in case you are hungry one day and will not be eating for awhile.
LETTER FROM UNCLE JOHN
_________________________________________
The enclosed letter from Uncle John is a letter welcoming you to our wonderful Camp Rolling Hills. The letter includes a list of rules and a list of what will be going on throughout the next 6 weeks.
MEAL ADMISSION TICKET
_________________________________________
Enclosed in the envelope is an orange ticket saying "ADMIT ONE." This is your meal admission ticket. This ticket will be your ONLY way of getting the meals our camp provides. If for some reason you happen to lose your ticket, you will be responsible for purchasing a new one. We strongly encourage you to eat all the meals we provide you with, because all of our camp days are long and adventurous and some food in the stomach is DEFINITELY required! We specialize in our oatmeal.
-Written by SilvrSpklz, 1999