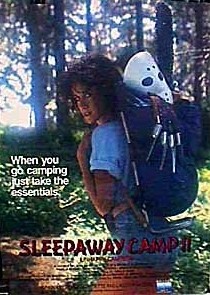 Pamela Springsteen's portrayal of Angela is the centerpiece of Sleepaway Camp 2: Unhappy Campers. So many fans find it puzzling, in retrospect, that the poster and cover feature an Angela apparently portrayed by a generic actress, and at one time I myself incorrectly theorized it was Carrie Chambers who would go on to headline Sleepaway Camp IV: The Survivor.
(Sleepaway Camp 3: Teenage Wasteland's cover does not receive the same criticism due to it not having Angela's face fully visible even though that too is clearly not Pam, as well as it's an airbrushed image so is more accepted as a less literal representation of the film.)
It wasn't Double Helix Films but rather Nelson Video's marketing department who were responsible for the cover art, and did attempt to book Pam for the LA photo shoot. However, she was unavailable that day so a model (name unknown) was hired instead.
It's reasonable to expect Nelson could have used a photo featuring Pam from any of the many taken behind-the-scenes or juicy Fangoria promo pics but it is important to remember the marketing priority wasn't aimed to exploit Pam Springsteen's family connection but rather to pimp the horror spoof aspect of the film. Circa 1988, the Jason mask and Freddy glove were the stars.
Of note is this prototype video cover which features an alternate snap of the anonymous model in a sexier, happier pose.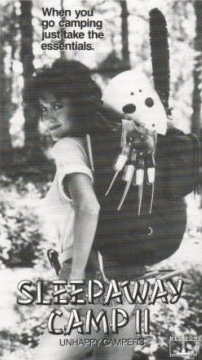 Nowadays, it would be relatively easy to Photoshop composite Pam's face onto the model and here's what it would look like courtesy an enterprising fan!