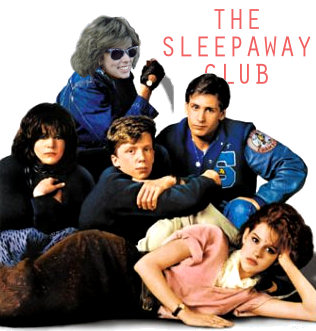 Sleepaway Camp Films was saddened to hear of John Hughes' passing last week. The legendary teen comedy/drama auteur had considerable impact upon Michael A. Simpson's pair of Sleepaway Camp sequels.
It bears repeating that in Sleepaway Camp 2: Unhappy Campers, writer Fritz Gordon named characters after the so-called 'brat pack' and specifically name-checked the cast of The Breakfast Club: Molly [Ringwald], Ally [Sheedy], Emilio [Estevez], Judd [Nelson], Anthony [Michael Hall] and even Uncle John, a reverent position referring to Hughes.
Overall, the atypical character interactions and soap operatic elements of the sequels are in direct response to the direction John Hughes took teenage-centric cinema in the 1980's.
Interestingly, at some point post-Teenage Wasteland, Gordon extended his appreciation of The Breakfast Club into a never-realized treatment entitled The Angel Of Death which positioned Angela as a teacher in high school bumping off kids stuck in detention.
I urge you all to read this amazing secret story about John Hughes.